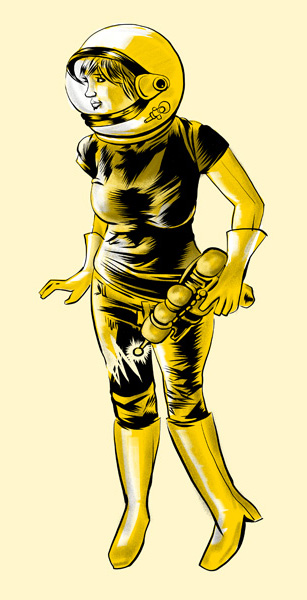 Chaingang of 1974 Q&A
published on February 17, 2017
I had a chance to correspond with Kamtin Mohager of The Chaingang of 1974 about his latest single; "I Still Wonder". We chat about his process, what he's learned and of course cowbell.
You've written many songs over the years. How has your focus in songwriting changed over the years to your latest release "I Still Wonder"?
While taking that almost 3 year break from Chain Gang, I did a lot of writing for other projects. I started another band called Teenage Wrist, I did commercial writing, and did a lot of external writing for other artists. All of those elements allowed me to learn new tricks, which inevitably found their way into my approach towards the new Chain Gang Of 1974 album. Honestly, I wanted to call it quits after I ended the "Daydream Forever" cycle. But thankfully, I felt rejuvenated after doing nothing but write music. I guess I just needed to step away for a moment. I now have a new album coming out that I am extremely proud of.
How did you get hooked up with The New Division for a remix of your latest release "I Still Wonder"?
We played a show together here in LA a few years ago. I became familiar with them after that show and had been a fan ever since. My manager and I started discussing ideas as to who we'd like to see reinterpret the song, and John was the first person to come to mind for me. He has such a fantastic way to mixing current sounds with that 80's New Romantic feel. He delivered the remix a week after we sent him the stems, and here we are now.
What are you most excited about by touring with The Naked and Famous again this fall?
It's pretty amazing that we get to tour with such a great band again. We all became friends on that 2012 tour, and have since become even closer friends. It will be nice to share the stage with people you care about. It makes it a lot easier. I also haven't toured in almost 3 years, so seeing fans and meeting new people will be a beautiful thing.
You're a veteran of writing and recording, live shows, festivals and licensing. What's the most valuable thing you've learned in your career thus far?
Not taking things for granted. I guess that's an overall life lesson. But this industry has a lot of ups and downs. The highs are high, while the lows and very low. I have fallen victim to allowing those lows to effect the band and personality of the band. I'm now 31 and have experienced a lot. So I know truly enjoy what's happening. Don't take anything for granted.
Can you ever have too much cowbell?
If you had asked me that back when I started this band in 2006, I would've said "Fuck no!"